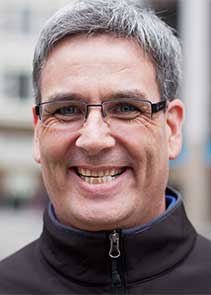 Joe Roberts – as a former homeless addict, who transformed his difficult life to become a successful businessman, has personally experienced the power of possibility thinking in the face of some of life's biggest obstacles, and he is dedicated to sharing this possibility mindset with others who are going through their own challenges.
The Rotary Club of Brandon has increased its donation to $1,000 to this worthwhile project to combat youth homelessness through its partnership with the Kiwanis club.
Elspeth Reid Family Center
A donation of a total of $7,000 to this worthwhile endeavor was completed. This consists largely of proceeds from the Wine Festival sponsored by the Rotary.
Brandon Regional Health Center Room for Renewal
The hospital will receive another $10,000 to bring our completed commitment to $30,000 out of our $50,000 promise to help the refurbishing and upgrading of the hospital.
Ashley Neufeld Softball Complex
Within a few days the last installment of $10,000 will be paid to complete the $100,000 commitment. This will help with the cost of setting up four diamonds at the complex. Come out and cheer on the youth teams playing on these excellent diamonds!